Yesterday was my last day of employment at the Terrorism Research Center/TIS.  As an original co-founder of TRC in 1996 and it's only active President and CEO, I was able to grow the company beyond any of the expectations we originally had.  It has been a fun and tremendously rewarding experiencing that will serve as a foundation for everything else I accomplish in my professional career.  I am greatly indebted to the remarkable team of folks I had the privilege of working with as we built the company.  I've often noted that one of my greatest skills as an entrepreneur was my ability to attract and retain talented and passionate employees. Without them, TRC would never have emerged as one of top research, analysis, and training organizations in the world.
We built the company from the basement to Ballston and watched it grow.   Early employees fondly remember my wife's incessant questioning about when that large and loud web server was going to be moved from our basement coffee table to a more suitable location and the financial audit that was conducted by our customer while my daughter Maddie crawled around the basement floor.
Most importantly, TRC was positioned and ready to serve during a time when our nation and customers needed us most.  We continued to provide innovative products, programs, and analysis keeping true to our mission of helping the nation understand and combat the threat of terrorism and other global risks.  Many of the programs will have a living legacy for many years to come.  Programs like the Responder Knowledge Base, Terrorism Early Warning Group Expansion, Mirror Image training, T4 training, Pediatric Preparedness, and of course, the unparalleled wealth of knowledge that exists on www.terrorism.com.  In context, more than half of those programs were conceived and started prior to September 11, which shows how far ahead of the curve we were thinking.
Now it is time for a new generation of TRC leadership to take the helm and deliver the next generation of products and services our customers require.  While I won't be with them to help, my heart will always be there and I wish them great success.
As for me, its back to the basement to figure out what's next.  If you've got something in mind, feel free give me a call.  It is an exciting and apprehensive time, but one filled with endless opportunity.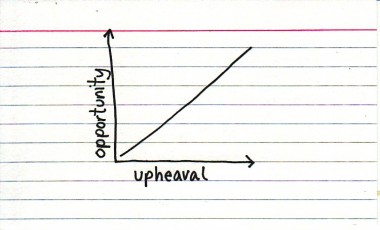 Photo credit to Jessica Hagy.  You really must visit her site.