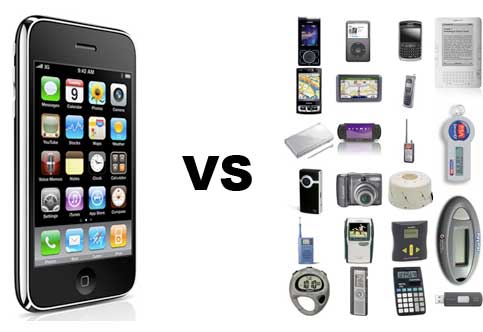 I started thinking about what a converged device the iPhone is and compiled this impressive list of devices I used to carry that are now replaced by my iPhone.  This is an unprecedented level of convergence if you ask me.  A quick informal tally shows that the iPhone is replacing $2700.00 dollars worth of equipment and several pounds worth of gear.
1) Blackberry – I used to carry a dedicated Blackberry for email in addition to my phone.  Most users will just use their Blackberry as their phone, but I was never really happy with the BB form factor as a phone.  The iPhone serves as both my email retrieval device and phone.
2) Phone – See above.
3) iPod – My iPhone has a built in iPod.  No need for a dedicated device, though in all honesty I usually carry my iPod Touch or Classic with me on travel as well.
4) Nuvi GPS – With built in GPS (and soon turn-by-turn directions) I've had no need for a dedicated GPS device.
5) Sirius portable player – I used to carry a Sirius radio portable player on travel for access to commercial free music and talk radio.  With my iPhone I can stream Sirius over 3G or WiFi.  Unfortunately, there is no Howard Stern which may be a deal breaker for some users, but not for me.
6) RSA SecureID – With the RSA application, no need to carry a separate token.
7) eBay/PayPal SecureID – Another iPhone application eliminates the need for either of these devices.
8 ) WiFI SIP phone – My iPhone has a SIP phone client that I use to connect to my SIP provider over WiFi from anywhere in the world.
9)  PSP – I'm happy enough with the iPhone as a gaming platform to leave the PSP at home.
10) Nintendo DS – I gave this to my daughter after buying an iPhone.
11) Digital camera – I wouldn't want to photograph my cousins wedding with the iPhone camera, but for out and about daily shots it works great.  I can also upload and email photos from the device on the go.
12)  Flip Video Camera – The iPhone 3GS replaces my Flip video camera with a larger capacity, built in editor, and ability to upload my videos to the Internet directly from the device.
13) WiFi signal locator – My iPhone can tell me which signals are nearby.
14) Amazon Kindle – For long trips, I'll still bring the Kindle, but for day to day and short duration travel, the iPhone Kindle reader works just fine.
15) Police Scanner – Several iPhone applications allow you to listen to local police scanners.  My favorite is WunderRadio.  While you lose the proximity aspect of tuning in what is nearby, most major cities are well covered and can be listened to from the iPhone.
16)  Radio – With Internet streaming of most major radio stations available, there is no need for a separate radio unless you trying to pick up a specific signal.  I'm usually not and there is something glorious about listening to your favorite NYC radio station while in LA
17) Travel Alarm Clock – The iPhone built in alarm capability has you covered.  I don't even use the alarms in hotel rooms any more.
18)  Portable TV – Honestly, I only carried this on a handful of trips, but with my iPhone and Slingbox application, I can watch TV anywhere I can get a WiFI signal.  In addition, I can watch shows recorded on my DVR at home.
19) Portable Voice Recorder – The iPhones built in application (or any of the dozens for sale in the App store) handle my voice recording needs.
20) Calculator – Until the iPhone I never could use my cell phone's built in calculator without extreme frustration.
21) Compass – The battery to the digital compass I had attached to my laptop bag died and I just removed the compass and threw it in a drawer.
22)  White noise machine – I don't personally travel with this device, but we do when traveling with the baby.  With the ambient noise application on my iPhone, we can leave this one at home.
23) USB Key – My iPhone works as a drive to share files wirelessly with my laptop when needed.
Devices that I wish my iPhone could replace:
1) Verizon MiFi – If tethering becomes available at a reasonable price, the MiFi could be left behind.  However, I love the MiFi so much, I'll probably keep it around for a while.
2) Laptop – For some trips, I'd love to leave the laptop at home.  If I could get a portable bluetooth keyboard that dream would become a reality for short trips.  Unfortunately, the onscreen keyboard is just not sufficient for major tasks or SSH sessions.
I'm hoping to update this with a follow-on post on the 10th anniversary of this article in June.  To see what I'm up to these days, be sure to visit DEV Group.