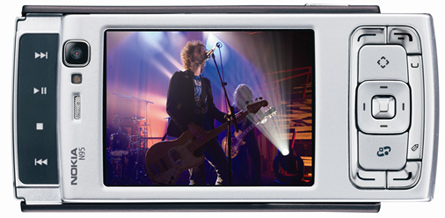 I've been testing a Nokia N95 recently. Overall, this is a fantastic phone with a lot of really cool features. In fact, it is hard to believe they packed so many features into this form factor. Based on my initial usage, here are some thoughts regarding the different features:
Phone: The N95 is a great phone. It is obtaining signal in areas that are known trouble spots. I was able to easily transfer my contacts from my N80i directly into the N95 via bluetooth. The interface is almost identical to the N80 so there really wasn't a learning curve before efficiently using the phone. The only problem I had was my phone didn't reconnect with the network after exiting a parking garage with no signal for at least 10 minutes. A power cycle easily takes care of this, but it is an issue I will be tracking with future use.
Music Player: The music player on the phone is fantastic. Great quality sound and stylish interface when moving the dual slider into media player mode. Perhaps the biggest improvement is the introduction of a standard headphone jack. The lack of a standard jack was a significant issue for me on the N80i and prevented me from using it as a media player.
Web Browser: The web browser is a nice feature. You wouldn't want to use it for a lot of surfing, but to kill time or quickly look something up it is great. With integrated 802.11b/g you are able to browse over wireless networks and save on bandwidth costs with your cell phone provider.
Camera: The 5 megapixel camera takes excellent pictures for a camera phone. With the exception of my wife's SLR, the N95 is probably the best digital camera in the house (when compared to several Sony's that are a few years old). The integrated upload to Flickr and/or Vox just worked seamlessly the first time with no problems to speak of. The ability to snap and send photos instantly has never been this well integrated into any device I have owned. The camera is video enabled and I found the quality to be quite adequate for any potential road use. The N95 also has a lens cover, which was a feature I wished my N80i had.
Email: Not using this feature as I have a separate BB for that.
GPS: I've yet to get the GPS to find the satellites, but to be fair I've only invested about 10 minutes on this feature, so I will post any additional thoughts on this feature later. From what I've read, the GPS seems to be the most frustrating component of this device.
SIP Phone: With the embedded 802.11 wireless access, Nokia has also allowed for the use of the device as a VOIP SIP compliant phone. I installed this feature and got it working with Gizmo Project in a matter of minutes. Call quality is as good and any dedicated VOIP handset I've used. This is a great feature as it allows me to use VOIP while in the office, on the road, or at home. Given that I always travel with a wireless router, I can use this feature anywhere I have Internet connectivity.
PC Connectivity: I was able to easily connect the device via Bluetooth and the integrated mini-USB jack to several Macs to exchange files. I have not tried syncing yet, but am encouraged I will be able to get it to work, even if it requires a slight hack like my N80i did. The introduction of the mini-USB jack is a plus as it eliminates one cable for me, however, I am extremely disappointed that we can not charge the device via this port. This is a major shortcoming on Nokia's part and something they should address with future phones. I really have come to expect that my devices will charge via USB.
The build quality on this phone is fantastic. It is hard to find areas where Nokia compromised which probably accounts for the price of the phone. The phone just feels good in the hand. Not to heavy, not to light. Dual slider works well with the primary slider (to access the numeric keys) easily opened with one hand. The only thing I am really not keen on is the color plum.
Battery life is adequate. Not great, not poor, just adequate. I'm getting a full day with mixed usage of all features (excluding major use of GPS). It looks like this device will require daily charging, which is fine, but I would have liked a little more oomph out of the battery.
I had high expectations for this phone and thus far they are being met. Whether it can compete with the iPhone remains to be seen, but it is a solid option for those that don't want a full touchscreen interface.